FINGERTIP FANTASIES
Dollhouse Miniatures Shop
401 Main St., Clayton, DE. 19938
302-653-8800




Fingertip Fantasies Dollhouses and Miniatures
************************************************************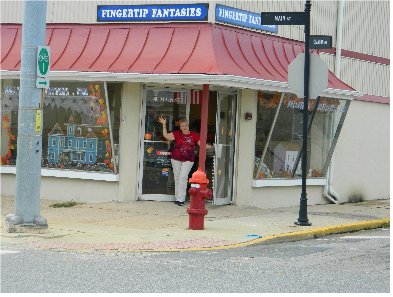 OUR NEW SHOP IS NOW OPENED
401 Main St.,
Clayton, DE. 19938
302-653-8800

Come visit on your way to or from the beach!
Hours are the same,
Wednesday through Friday, 10-6 and
Saturdays, 10-4.
Hope to see you all soon.
*****************************************************
******************************************************
Email "Specials" Sign Up
************
Click here for our Facebook Page


************
High Quality Dollhouses
Miniature Electrical Supplies & Service
Building and Finishing of Dollhouses
Porcelain Dolls in 1" Scale
Collectables
"One of a Kind" Handmade Items
Room boxes, Shadowboxes, Displays
Custom-made Collages
Over 20,000 items in stock!

Prices are subject to change without notice.
A Unique Full Line Miniature and Dollhouse Shop
We ship anywhere in the world!
ALL ITEMS ARE 1" SCALE UNLESS OTHERWISE NOTED
Please place your order online as we
can no longer accept phone orders.
Specials
Miniature Ramblings
Accessories
China
Food, Groceries
& Staples
Linens
Seasonal
Alice's
Collections
Chrysnbon
Accessories
Furniture
Medieval Armour
Antique Weapons
Sewing Items
Angels, Fairies &
Fairy Gardens
Cookware
Furniture Kits
Miniature Books
Tea Sets
Animals
Dollhouses
Garden
Miniature Tools
Tools for
Building
Artisan's
Galleria
Electrical
General Store
Model Builders
Supply
Toys
Bed Dressings
Fairy Gardens
Glassware
Wallpaper
Bespaq
Gifts
Hobbies
& Professional
People
Window Decor
Brass
Flooring
& Carpet

Holiday

Picture Frames

Playscale

Building
Components
Flowers
Kitchen
Room Boxes
& Kits
1/2" Scale

All returns must be made within
30 days for a store credit.

Order Form 100% safe

FINGERTIP FANTASIES
Dollhouse Miniatures Shop
401 Main St.
Clayton, DE. 19938
302-653-8800
Open Wednesday thru Friday:
10am to 6pm
Saturday 10am to 4:00pm