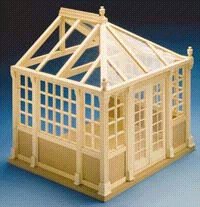 9900 - $99.00
The Conservatory Kit by Housework's
The easy-to-assemble kit is ready to paint, stain, panel, paint,
wallpaper or texture with stone or brick. It could be a
greenhouse, sunroom, garden room or a building of it's own
with two placed back to back. What will you do with yours?
11 13/16"W x 13 1/2"H x 11 11/32"D